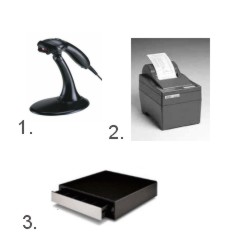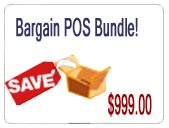 This point of sale bundle includes:
1. Star Micronics SP512 Receipt Printer - Parallel Interface.

2. Metrologic MS9520 barcode Scanner - Keyboard Interface

3. Posiflex Cash drawer
Cash Drawer wired to connect to the Star Micronics sp200 Receipt Printer.
4. Power POS Software - Your Complete solution including: Time Cards, 2 Sales Screens, Accounts Receivable, Purchase Orders, Inventory Control, and over 200 reports, plus a report generator
Upgrade to Windows POS Software: Retail Power for Windows!

Create Invoices
Track Inventory
Track Customers
Customer Loyalty Programs
Purchase Orders
Supports XCharge™, PCCharge, and IC-Verify Credit Card Verification Software

Add $395.00

You will need to supply your own PC computer system for this package. Minimum requirements are:

Intel Pentium or AMD Processor 1.2Ghz or faster, 512 Megs RAM, 10 GB hard-drive or larger, CD-Rom drive, 56k modem, 1 serial port (COM) and 1 parallel port and monitor, keyboard and mouse. Power POS software is compatible with Windows, 95, 98, 200, ME and XP. Network card is required for connection to existing LAN's.

For more information, please call us at 800-646-4767.